Why have we hesitated to send a nonprofit, year-end appeal?
Because we believe God knows our needs and provides answers before we even know to ask (Isaiah 65:24).
Then why do we send updates to partners and friends?
Because everyone we know is human and sometimes must be nudged in order to listen more closely and respond. Please consider this to be your nudge.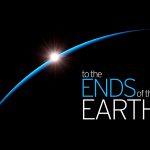 While we serve a God of unlimited resources, our supply is limited to those who willingly share with us. When people give it provides us the opportunity to go and do the things the Lord prompts us to do. We are willing and ready to serve. Our limit is the ends of the earth and the ability to pay to get there.
Should you be thinking about a worthy place to give a generous, year-end gift we hope you will consider DoorWays. We know of many great places where your gift will make a difference and know they need your help.
So do we.
Ric & Sheila Shields

P.S. Don't forget…gifts must be postmarked or received by Dec 31st in order to be considered tax-deductible for 2016.
P.S. #2: If the Smart Giving feature below doesn't work for you, please feel free to call (918.808.5461). We are happy to provide an alternative giving method if you wish.