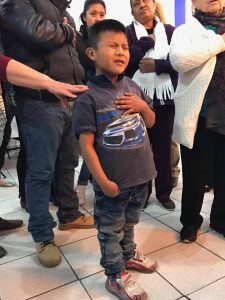 At one of the Simply Sisters® events in Mexico City in January, eight people prayed for Jesus to forgive their sins and put their faith in Christ. One of them was this five-year-old boy named Gabriel who ran to the altar to ask Jesus into his heart!
Nearly 300 ladies (and a few men and children) attended the four events held in local churches. By the end of the week 60 others had joined Gabriel in his profession of faith. We are so grateful the LORD has entrusted this ministry to us and those who are partners and team members with us.
Please consider joining our upcoming outreach to Buenos Aires, Argentina from April 8-19, 2017. Team members will minister to the female students and staff at Instituto Biblico Rio de la Plata in one event and host 4-5 events in local churches. Please click on the following link to learn about the effectiveness of these outreaches: (http://doorways.cc/tears-hugs-smiles-and-burdens-lifted/)
The estimated cost for each participant is approximately $950 ground fee plus round-trip airfare. Ground fees include accommodations at IBRP (small apartments meant especially for teams from the USA), all meals, travel medical insurance, ground transportation, tips, host gifts, and project expenses. Current airfares range from $900-$1650 for the dates and times we would hope to travel. The sooner we are able to assemble a team, the sooner we can obtain tickets at the most favorable prices.
Contact us as soon as possible for additional information or to let us know you plan to join us!