Next month, Sheila and 13 other ladies will board planes bound for Mexico City and hold four Simply Sisters® events with neighborhood churches. We expect nearly 100 women will put their faith in Christ or make re-commitments at these events.
How can we be confident of the numbers? It's in line with what has happened at these events in previous years. In a simple method of relational evangelism, each lady from the host church invites a friend to join her at the event. Snacks are served, followed by skits and games. Later, our team members share their life stories of God's help and faithfulness through difficult times. Afterwards the women are given an opportunity to pray and ask Jesus to help them in their situation.
That's when it happens.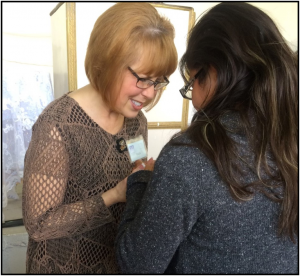 At least 50% of those invited to the event open their hearts to Jesus and ask Him to change their lives.
The friend who extended the invitation prays with them.
Other ladies from the local church pray with them.
Our team members pray with them.
There are tears, hugs, smiles, and life-long burdens are lifted from them.
In the days following the event, each lady receives personal follow-up from members of the hosting church. That is how the Church grows and communities are transformed.
We believe God will use Simply Sisters® to impact nations. Not surprisingly, He is using it to touch hundreds of ladies in the USA, too. But, that story is for another time.
The support of our partners and friends makes it all possible and we can't say "Thank You!" often enough. If you haven't done so already, please consider a generous, end-of-year gift to DoorWays® that will help us to continue reaching others with Good News, hope, and joy!
Blessings!
Ric & Sheila Shields
P.S. Special thanks to our friends at Operation Serve who partner with us and provide logistics and other help in so many areas. We could not attempt an outreach like this without the help of friends like them.