We have lived in 5 different houses in the past 13 years and hope to live in our 6th house soon.
Do we like moving? No.
Are we crazy? It depends who you ask.
Initially, we hoped to buy and sell until we had no need for a mortgage. It was a feasible plan but it crashed with the economy a few years ago.
We moved into our current home nearly 9 years ago. It is spacious, has large rooms, and is in a small, quiet, gated community. Believe it or not, that is the problem.
Unknown to us, homeowners in small, quiet, gated communities live there for one or more reasons. They will often cite safety first. However, we have gates, not walls. On the rare occasion when the exercise bug hit, I simply walked around the gate to visit the nearby walking trail. Anyone else can do the same. It really isn't all that safe.
Apparently, they also like the idea of a quiet neighborhood. That is where we have met the biggest conflict because we enjoy entertaining. Not noisy parties, but lots of people.
At our Nearly Yearly DoorWays Open House, we host around 150 people over a three-night celebration. Cars park on both sides of the street with little room to maneuver. Residents in a small, quiet, gated community don't like it.
The growth of Simply Sisters has caused no small amount of consternation, either. Five cars parked on both sides of the street in front of our house can make some neighbors nervous. Add a few more cars and it makes them angry. What if a neighbor wanted to go somewhere during a Bible study at our house? They would have to pay closer attention when they backed out of the driveway and be careful to avoid hitting a parked car. Were the truth to be known, some of my neighbors shouldn't be driving in the first place.
Through the help of our dear friends, Keith & Crystal Sprik and Biltmore Homes, we have found a solution to our housing dilemma. For the past few weeks, we have been renovating a home purchased through a VA foreclosure sale. We have removed carpet, tile, doors, ceilings, fireplaces, windows, and some walls.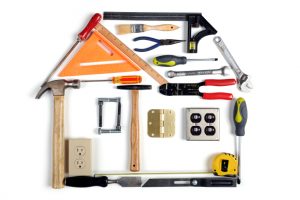 We are adding a bonus room in the attic and have re-designed the floorplan to facilitate the growing ministry of Simply Sisters. There will be room to work, storage to organize the tools and items they collect to distribute, and adequate workspace. It will be up-to-date, energy efficient, and have enough parking in the driveway for up to 6 vehicles. The neighborhood street is wider than a small airport runway and is situated in such a way that there will be very little competition for parking.
An added benefit is that we will shave $40k off our current mortgage and reduce the term from 22 years to 15 years once our current house is sold.
So, allow me to re-examine the questions I previously asked:
Do we like moving? No, but we look forward to having a home that will house and facilitate the growing ministry the Lord has opened for us
Are we crazy? It still depends who you ask.
Will you join with us in praying for the sale of our current house? We've had several lookers over the past 5 months but no offers. We believe the Lord is in control of the timing and ask you to remind Him that it is just about time for it to sell.
Just kidding.
Not really.
Maybe a little.
Blessings!
Ric & Sheila Shields